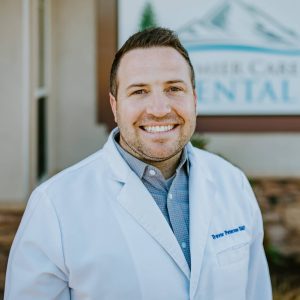 Dr. Trevor Peterson has been working in the dental field for seven years so far, and he thinks there's nothing better than being able to help people smile confidently through his work! He studied at Southern Utah University and then earned his doctorate at the University of Nevada in Reno. He also has advanced training in minimal sedation and dental implants. His favorite part of his job is getting to know his patients over the course of their appointments.
Dr. Peterson hails from Las Vegas and has three children who are five, three, and one years old. When he isn't busy at the office, his hobbies include rafting, playing the piano, hiking, and spending time with his family. He also speaks Korean!
Dr. Thomas Lloyd is originally from Walnut Creek, CA, and he's been working in dentistry for seven years and counting. He received his undergraduate education at Brigham Young University and then pursued his doctorate at the University of Texas Health Science Center in San Antonio. He has also undergone additional training in minimal sedation and was the recipient of the Quintessence Award for clinical excellence in restorative dentistry. What he enjoys most about his work is being able to form relationships with his patients.
Dr. Lloyd was actually a civil engineer before becoming a dentist! He designed many fire stations and large sports complexes during that period of his life, including many Major League Baseball spring training facilities in Arizona. Today, he enjoys combining his engineering background with the field of dentistry whenever he can.
Dr. Lloyd has a wonderful family consisting of his wife, Alyson, their two daughters, Jane and Caroline, and their son, Henry. Outside of work, he is an avid mountain biker and also enjoys hiking, running, camping, playing organized sports, and basically doing anything outdoors. Additionally, he's a member of the Southern Oregon Concert Band where he plays the euphonium.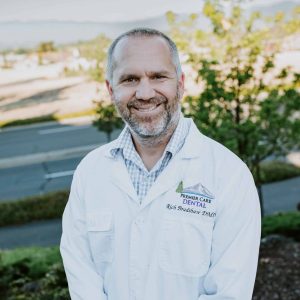 Early on, Dr. Richard Bradshaw met several dentists and was always impressed with their charitable natures. He loved that they could improve someone's life so easily—be it by fixing a chipped tooth or getting them out of pain. He had never considered being a dentist until he had a dentist invite him to his office to shadow him. Dr. Bradshaw loved the clinical challenges and the independence. To him, dentistry lends itself to charity and provides one with the chance to have a meaningful impact on the lives of others.
Dr. Bradshaw attended the University of Pittsburgh School of Dental Medicine, and while there, he did optional advanced training and worked in a special needs clinic. He pursued additional training after graduation during his residency, in which he gained experience treating geriatric patients and using dental implants. His continuing education since graduation has been quite varied. He has focused on refining his clinical skills in endodontics (root canals), restorative dentistry, sedation, and dental implants. Dr. Bradshaw is also a member of the Academy of General Dentistry and the Southern Oregon Dental Society.
Dr. Bradshaw likes working with patients 50 years and older because it gives him the opportunity to really make a difference in their lives. He likes the restorative challenges they present and the management of medical histories. These cases require some creativity and often use most, if not all of the elements of dentistry. Dr. Bradshaw strives to do most procedures in-house to make it convenient and efficient for his patients. He and his team work hard to accommodate everyone who comes to see them to make their experience as comfortable and fulfilling as possible.
When not at the office, Dr. Bradshaw enjoys fishing, camping, hiking, and playing racquetball. He is married and has three daughters, so he spends lots of time attending all of their various activities. He enjoys reading, cooking, and doing projects around the house as well. He also dedicates a lot of his free time to numerous charitable events intended to improve the lives of the people in Ashland and around the world.
Dr. Michael B. Uffens attended Brigham Young University and then achieved his Doctor of Dental Medicine at the University of Nevada in Reno. He has additional training in orthodontics and minimal sedation. He has been proudly working in dentistry for a decade now! He loves interacting with patients and helping them achieve their smile goals.
Dr. Uffens' hometown is Redmond, WA. He is married and has three daughters and one son. When he has free time outside of the practice, he enjoys backcountry skiing, mountain and road biking, being involved with his church, golfing, playing tennis, and running. He also regularly runs marathons and has started training for an ultramarathon.